Geoform Reading Stool
Wooden reading stool made from four boards cut from a single plank of poplar. To emulate the manufacturing process, we traded technical drawings of our own designs, fabricating another's design and having our design fabricated by another. As an homage to our Industrial Design program, my stool features a slot to hold a book celebrating 80 years of ID at Carnegie Mellon University.
Collaborators
Julia LePoer
Jasper Krarup


Duration

4 Weeks, Spring 2021


Course

Designing Products for Interaction


Materials

Poplar, Wood Screws, Wood Glue


Tools

Chop Saw, Joiner, Planer, Table Saw, Drill Press, Chisels, Router, Bandsaw, Soldering Iron, Power Drill

Wood-Working
Rapid Prototyping
CAD Technical Drawing
Design for Manufacturing
My stool, fabricated by Jasper Krarup.
---
Process & Sketches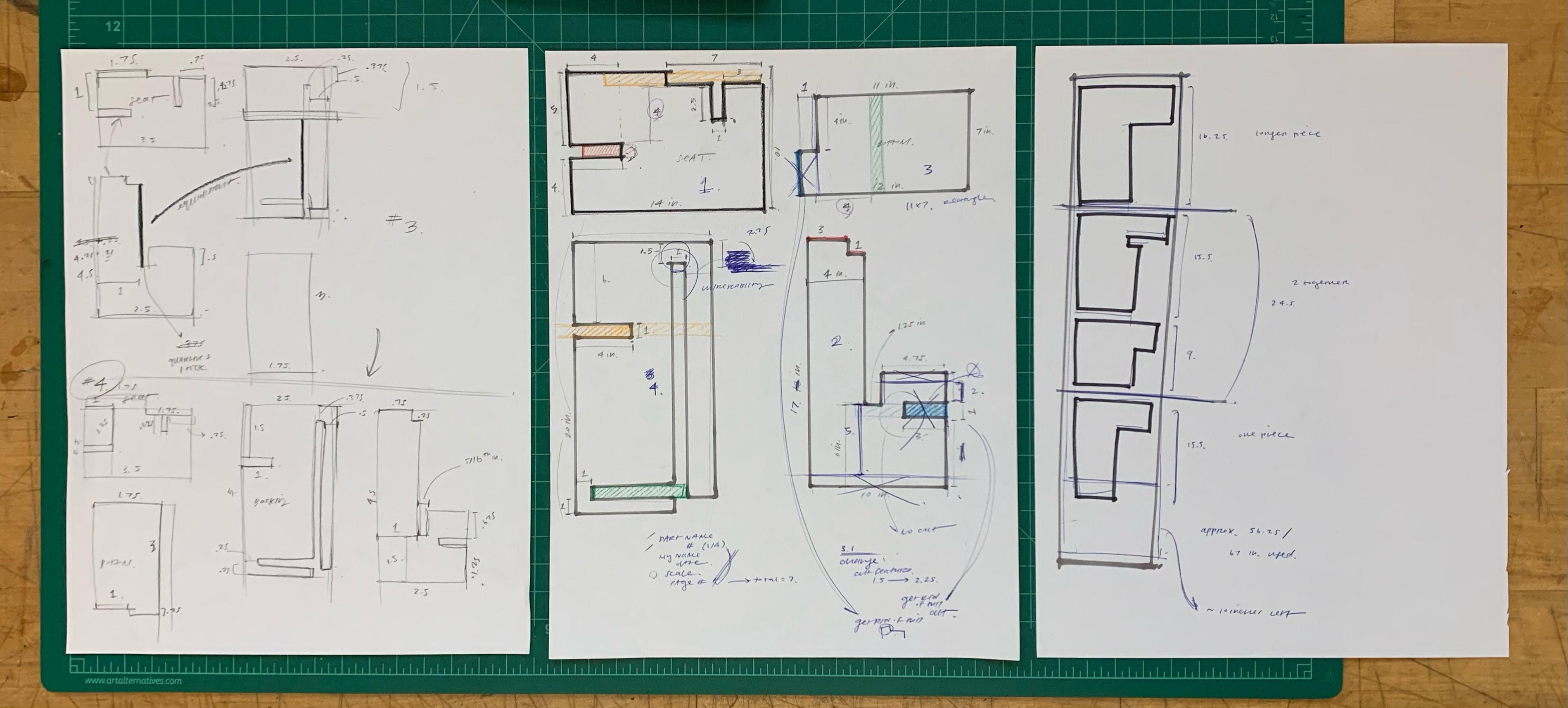 Quarter Scale Models



Technical Drawings
Click here for full set of technical drawings
---
Craft Process (Julia's Design)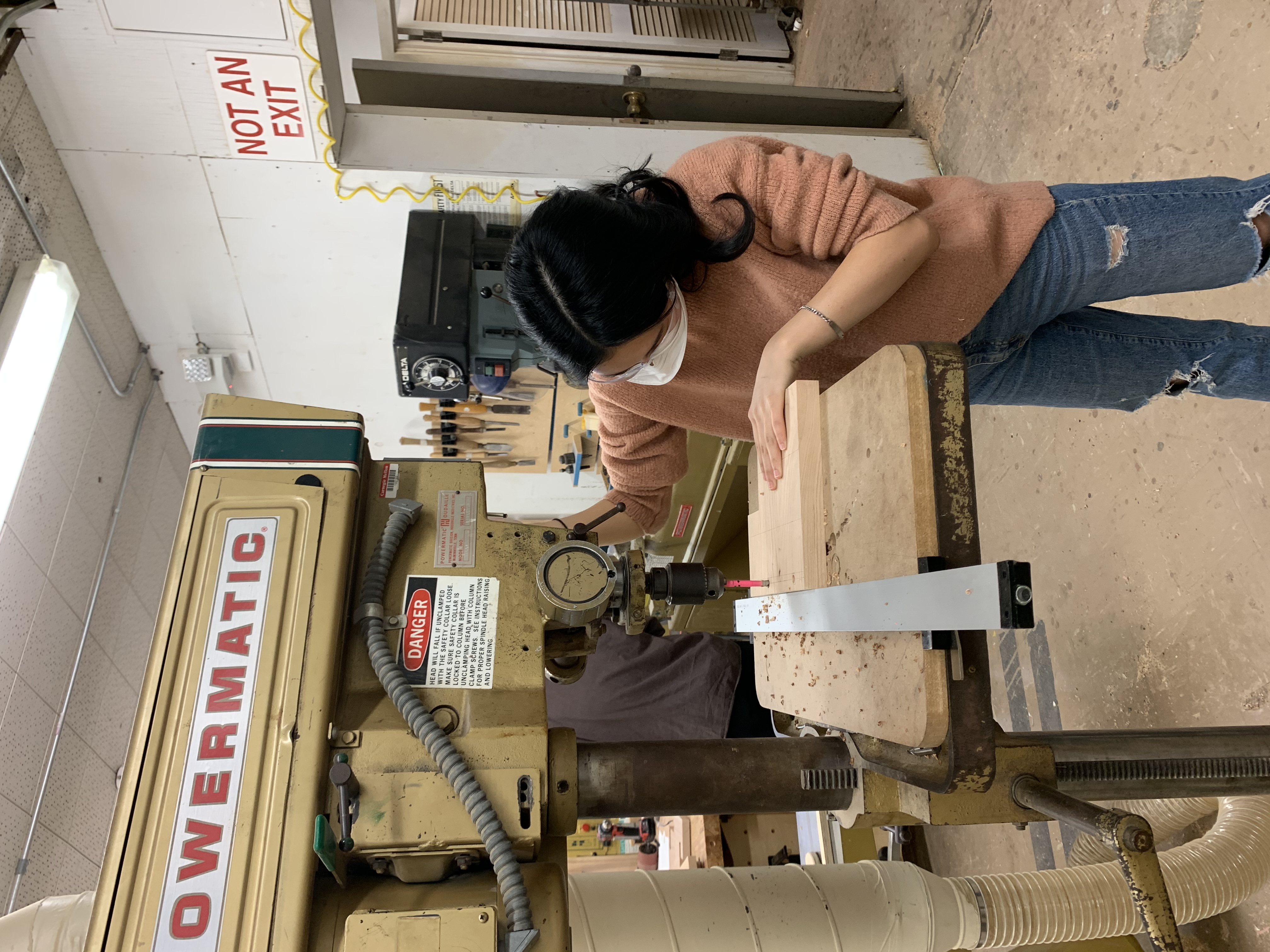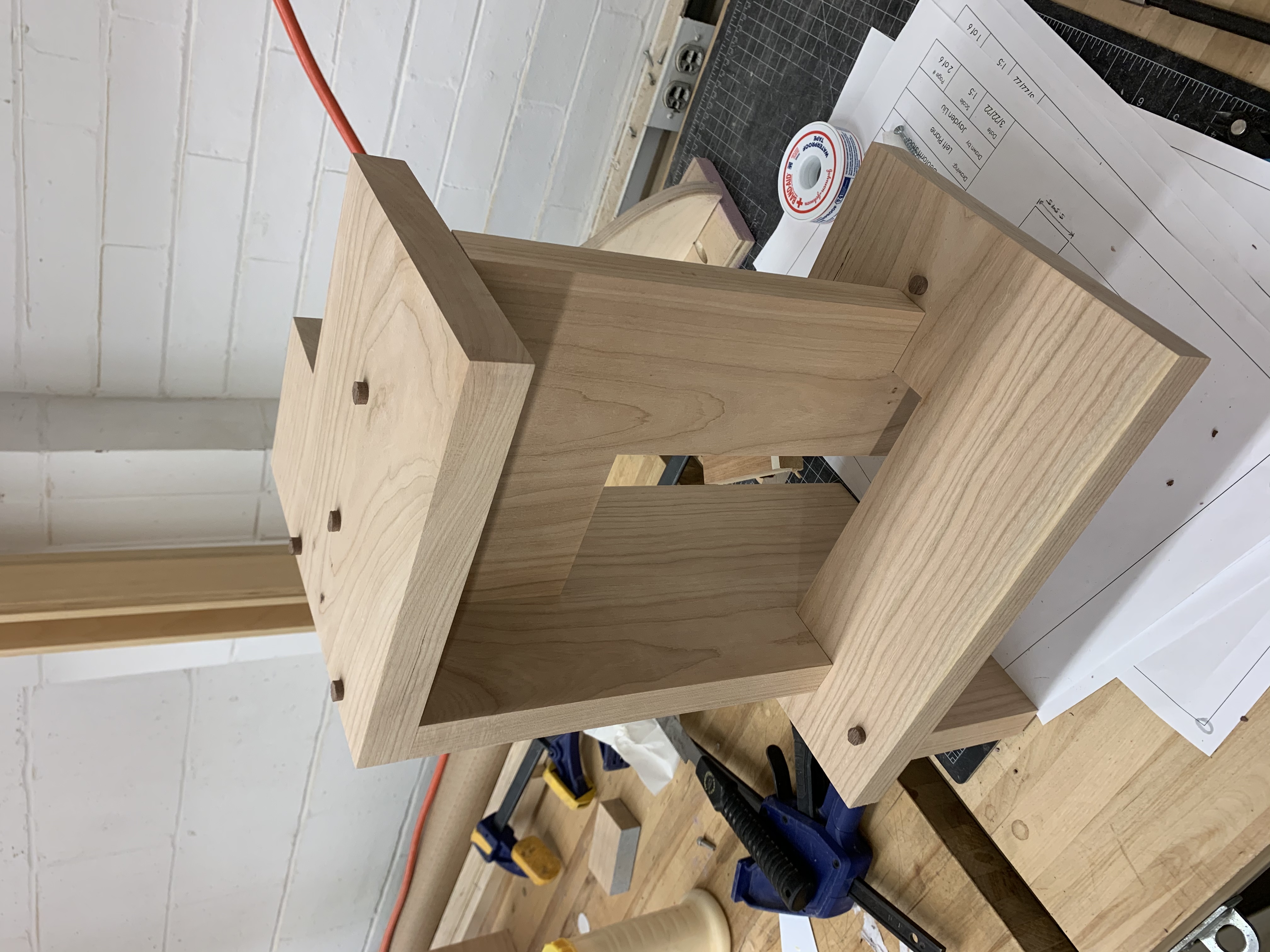 Note from Jasper's fabrication of my design:


A fabrication failure / design vulnerability that could not have been anticipated occurred when one piece while being smoothed on the router, caught, and parts of the piece split off. As an exploration in alternative manufacturing methods and in order to avoid slowing down the craft process, we turned to the CNC to fabricate this piece: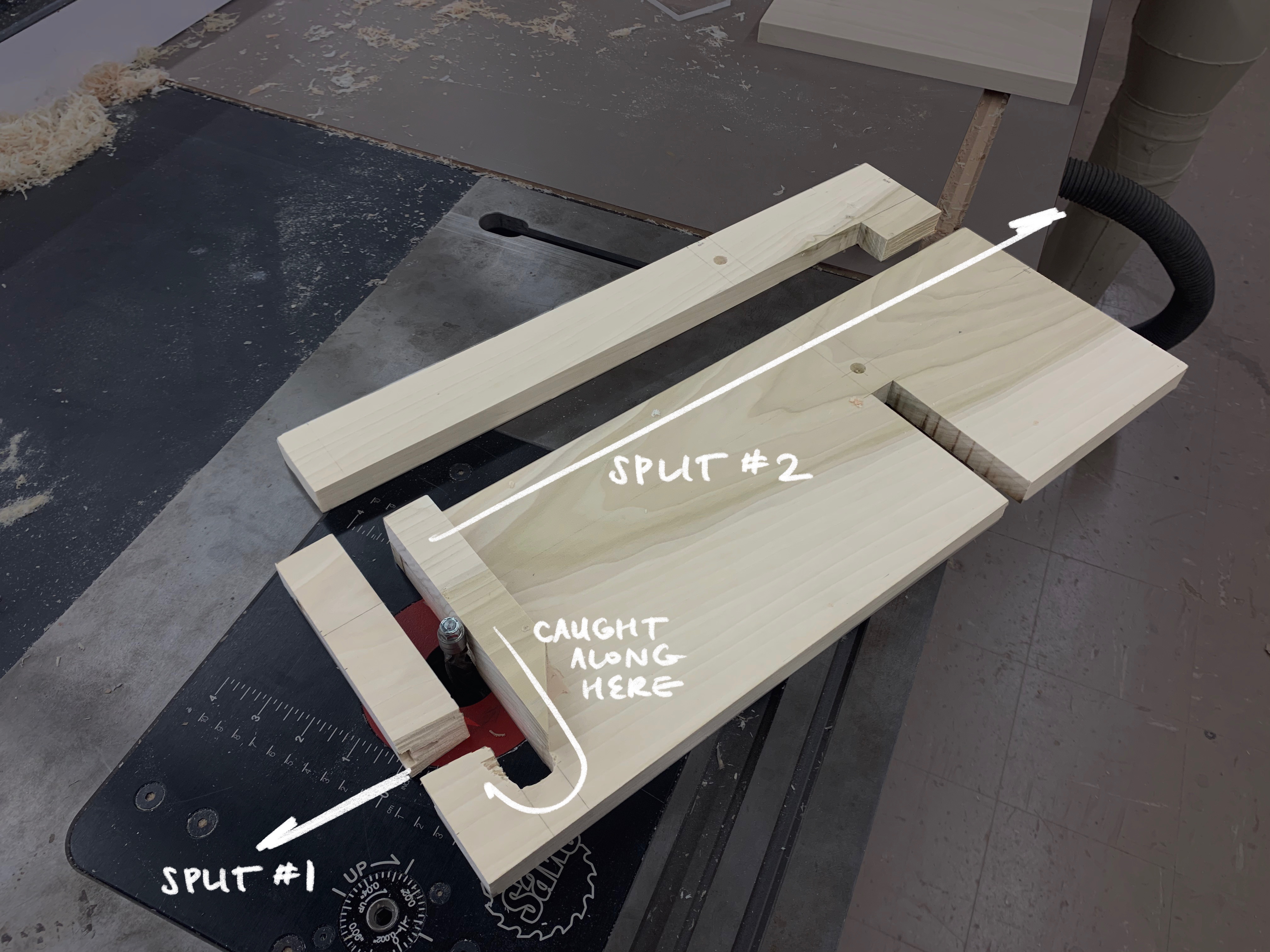 ---
Final
Designed by Julia LePoer • Fabricated by Jiyeon Chun
Designed by Jiyeon Chun • Fabricated by Jasper Krarup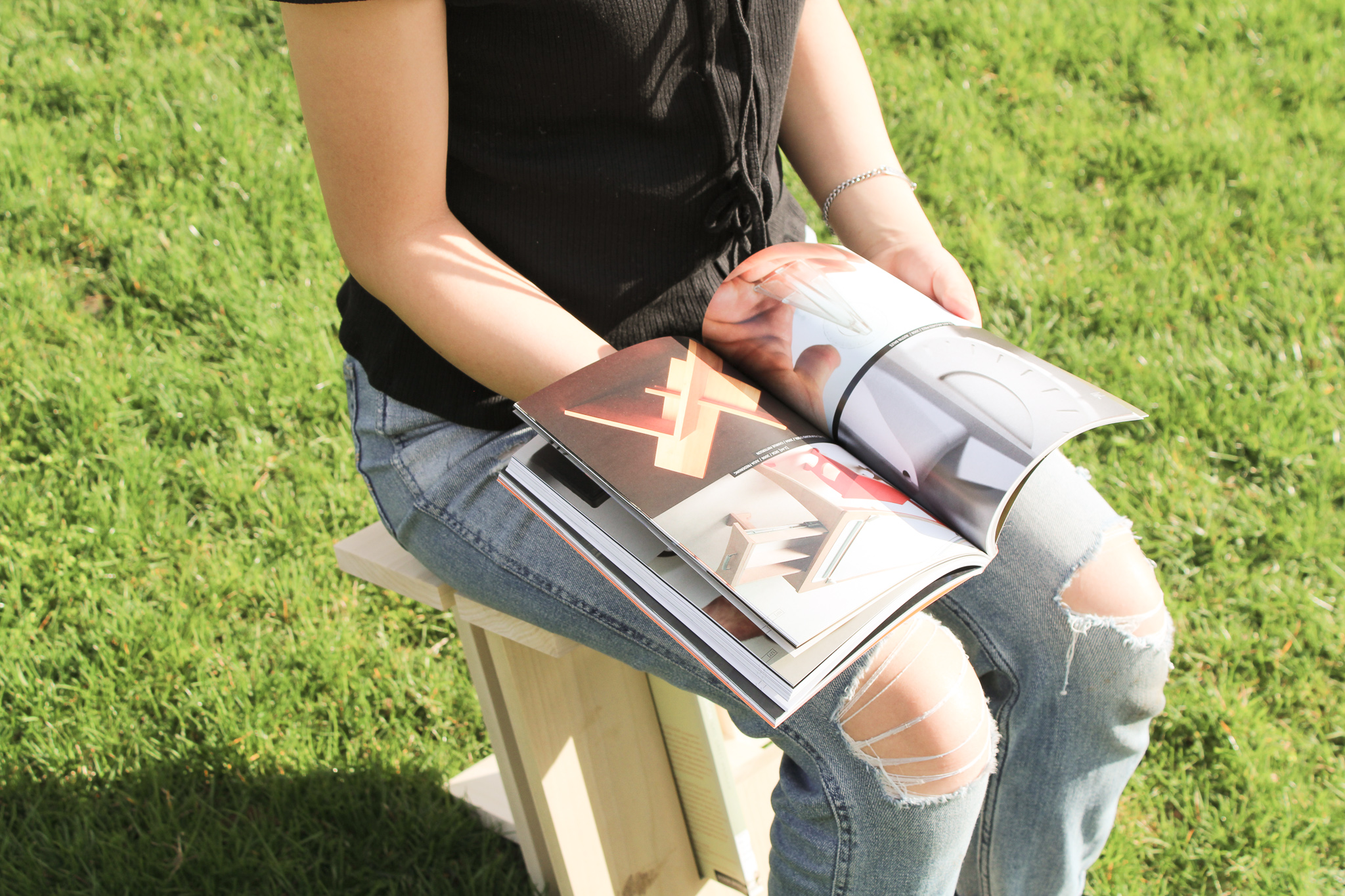 This project was a lesson on the
weight of our design choices when made realized materially
. Though my stool is sufficiently stable, if I were to do this project again, I might make it stand upright instead of tilted and with a piece going in the third plane, that it might be a bit more versatile for other uses than sitting, and more durable for a scaled future.
This project was new for us in that, while for past projects, the design and fabrication process were very much intertwined, here, there was a
distinct transition between design and fabrication
wherein it was no longer possible to make (at least significant) changes after handing off the shop drawings for manufacturing. My stool, especially, ran into fabrication failures that could not necessarily have been anticipated, however, it reinforced the importance of considering possible vulnerabilities for manufacturing more early on in the design process.
Through this project, I learned to consider aspects of
design for manufacturing
and the importance of being extremely thoughtful about the decisions made in the design process which would then be materialized in a separate manufacturing process.