Pigeon

Pigeon is a new kind of fax machine, designed to bridge the gap between preferred methods of communication for the elderly and their loved ones.
Duration

7 Weeks, Spring 2023


Course

Designing Products for Social Systems


Research Design and Framing
Interaction Design
Rapid Prototyping
CAD Modeling and 3D Printing
Rendering
UI Design

Pigeon was designed out of a desire to foster better communication between (less tech-savvy) elderly and their loved ones, and the belief that the solution shouldn't have to come at the expense of the elderly being the ones to have to adapt to a new world. There had to be a better way to allow them to communicate in the way they're comfortable with, while leveraging current technologies to close the gap into our world as well.


---
How it Works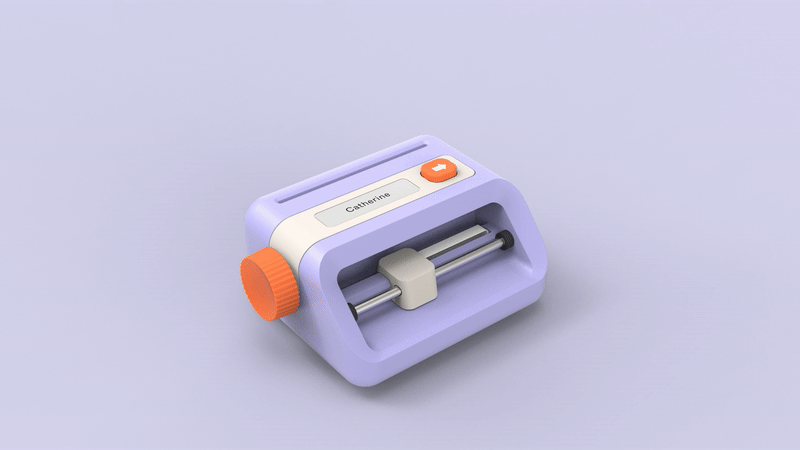 The device acts as a portal between the digital and physical world, enabling parties to communicate in the medium they prefer. Through it, the elderly can "fax" hand-written notes to their loved one.
After feeding the note into the slot, the knob is used to flip through the contacts to the desired recipient before hitting "send."
On the other end of the system is the Pigeon app.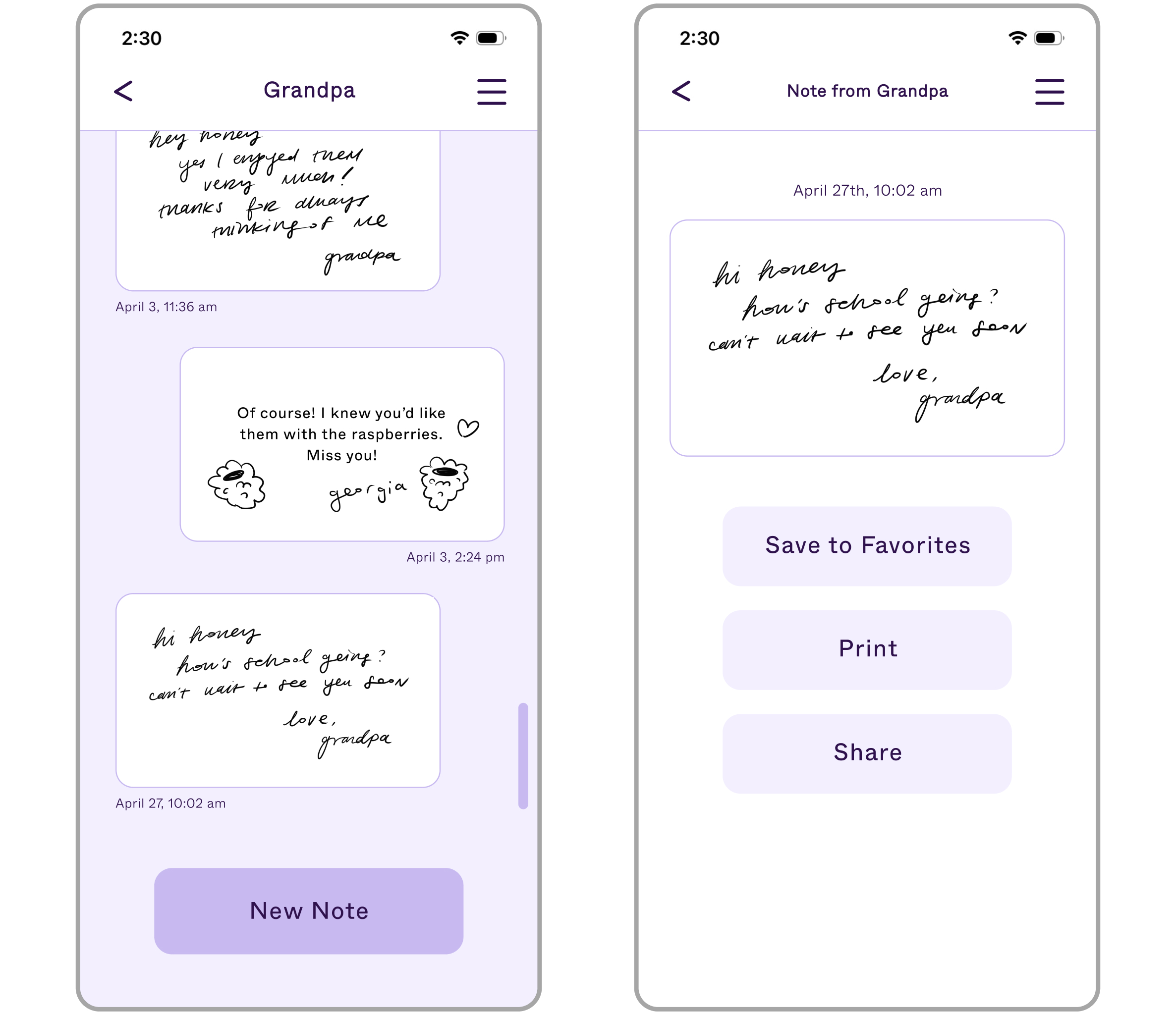 This is where the loved one receives those "faxed" notes as digital messages.
Meanwhile, the loved one can conveniently send text-like messages back.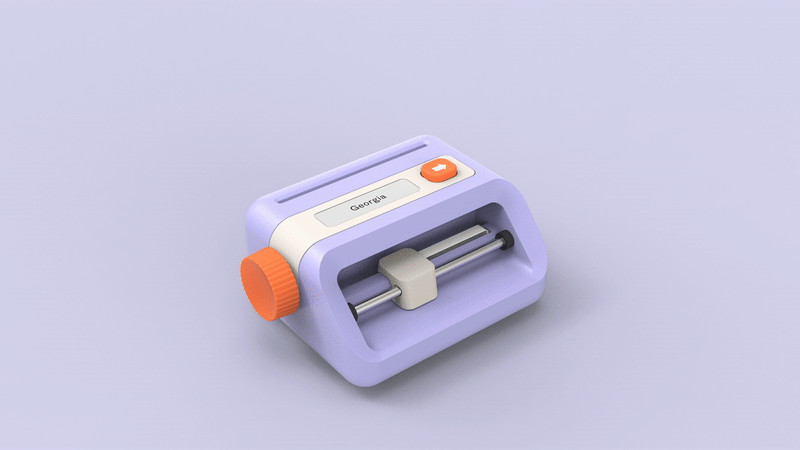 These will arrive in the form of a tangible note, able to be kept and cherished.
The app also includes a feature which turns users' handwriting into a font, allowing digital notes to look and feel more personal.
When "faxing," a confirmation is printed on the message to indicate successful delivery.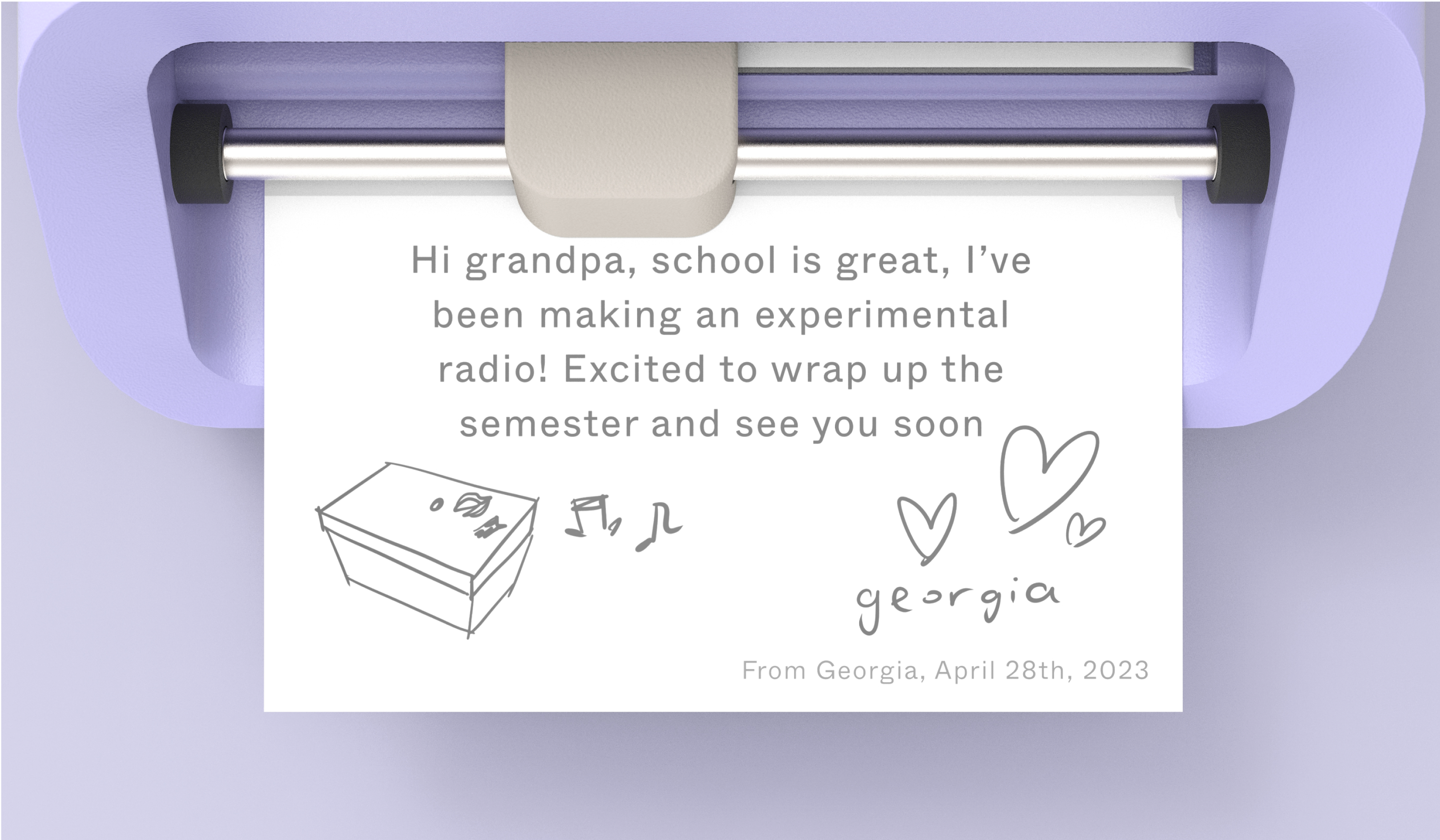 All messages are dated and detailed with the person in conversation, allowing the user to keep track of their conversations in order.
---
Context

Staying in touch with loved ones is important for emotional and mental health, especially for seniors living in assistive home environments away from family.

---
Challenge

Unfortunately, the most common demographic that needs nursing homes is the same one that is generally less comfortable with smart devices. Meanwhile, loved ones outside often have busier schedules and are not always available to write letters, video-call, or visit, creating a need for asynchronous methods of communication.

---
Why Does This Matter?

The Older Population is Increasing

"The number of Americans ages 65 and older is projected to nearly double from 52 million in 2018 to 95 million by 2060."


Population Reference Bureau
It Affects
Life Spans

"The mortality rate of individuals moving into a skilled nursing facility is death within the first 12 months by as much as 50%-60%."


National Center for Assisted Living
Emotional Connection is Key

"Loneliness automatically triggers a set of related behavioral and biological processes that contribute to the association between loneliness and premature death in people of all ages."


Steven Cole, Social Genomics Core Laboratory at the University of California, Los Angeles
---
Research

I started by interviewing six seniors on relevant topics such as connection with loved ones and relationship with technology. They expressed high comfort with technology and smartphones, and relatively satisfactory connection levels with their loved ones:




"Our kids are close by and they call to check in, to ask if we need anything, from the market, etc. We're a closely knit family."


Myrna, 85, Female
"We have a phone package to do as many calls as we want with our daughter in Scotland, through phone or zoom. There's nothing like being together in person, but being able to see her face is a really important aspect of the tech for us."


Mark, 72, Male
"I feel most connected to loved ones when having intentional conversations and set apart times to talk over FaceTime."


Alice, 80, Female
---
However, it was important to note that these particular interviewees:
Live in their own home with (or with nearby) family members
Are active in their communities
And (most of them) are still working



The findings likely weren't representative of the wider demographic, especially of those living in assistive home environments.

The next step was to get in touch with a local elderly care home facility, where I was able to interview two of their residents and observe their living spaces.


---
Jean — 93, Female
"I usually send my family members a card on their birthdays, I have a list of all their birthdays on my fridge. This keeps me in touch."

"My daughter is an on call therapist, I use this calendar to keep track of when she's on call becayse I know that means she might not be able to contact me."

"I wish I was more connected with my grandchildren and great-grandchildren, I enjoy seeing their faces, but really I enjoy any sort of contact with them."

"I use my computer to see my email and contact stores if I want to buy something, but I'm not very comfortable with technology."
Judy — 85, Female
"I can't expect them to always get on a bus and use
their limited time
to come see me."
"When we talk and what we talk about
depends on them, I have nothing but time on my hands.
My niece calls from work sometimes."
"My granddaughter in Nevada texts me, but I don't respond. I just use my flip phone to tell time and call when I need oxygen.
I wish I could text back, but I don't know how."
---
Problem Framing

Life for seniors in the assistive home environment was very different. They were not as comfortable with technology, and therefore
could not stay in touch digitally with loved ones nearly as well
.
However, between the two rounds of interviews and amidst all differing levels of physical mobility, familiarity with tech, and living spaces, one
unifying theme was the desire to be more connected to loved ones.

From these two insights, I chose to focus on:
Helping the elderly feel more connected with loved ones

Especially for those in assistive home environments less comfortable with technology (texting, zoom, etc.)
---
Key Insights

---
Design Goals


The goal was to create a device that enables communication that is both familiar for the elderly and convenient for the loved one.

---
Ideation
Exploring the idea of remote, asynchronous conversation led to looking at the original way of "teleporting" printed material: telegrams. What might be an appropriate, modern-day solution to "magically teleport" dialogue across two worlds— digital and analog?
This led to the idea for a device that could materialize text messages and allow the elderly to write back in a tactile and analog way— a new kind of fax machine.
---
Follow-Up Research

To understand what kind of messages would be communicated with said device, I dropped off a diary-style generative research tool to a few residents asking them and their visiting loved ones to write notes to each other. Findings would inform what kind of interaction and capabilities the device would need to afford.
Key Insights


The note entries gave insight into what kind of information the parties wanted to exchange (appreciation, affection, hopes for other's well-bring, updates about their lives, anticipation for future meetings), and affirmed that the horizontal, index-card size papers afforded the intended kind of exchanges.


---
Interaction Decisions

---

Interaction and Form: Contacts

One particularly nuanced decision was the question of how to implement "contacts."
The solution needed to achieve three things:


Be as analog/mechanical as possible

Enable variable number of contacts

Doesn't remind user of their possible lack of contacts (ex. buttons with no name)


A few possibilities emerged:


Out of these, a (non-touch) screen controlled by a mechanical touchpoint seemed the appropriate choice. Though not entirely analog, the digital screen component would actually afford a dead-simple, intuitive way to flip through a variable number of contacts while eliminating the fuss and limitations of multiple physical buttons.




From there, consideration about the accessibility of a small scroll wheel led to referencing the Rolodex business card holder to finally land on a larger knob for comfort and a familiar interaction.


---
Form Development
Form-wise, the goal was to invoke a sense of familiarity and nostalgia by drawing reference to devices of the past: particularly, typewriters. At the same time, it needed to speak to an entirely new and appropriate interaction designed uniquely for the present.
Sketches


Understanding Printer Internals




Physical Prototyping: Evaluating Scale and Proportion




Sketch Overlays




CAD Iterations


---